Insights: Articles & Resources by Oliver Inc.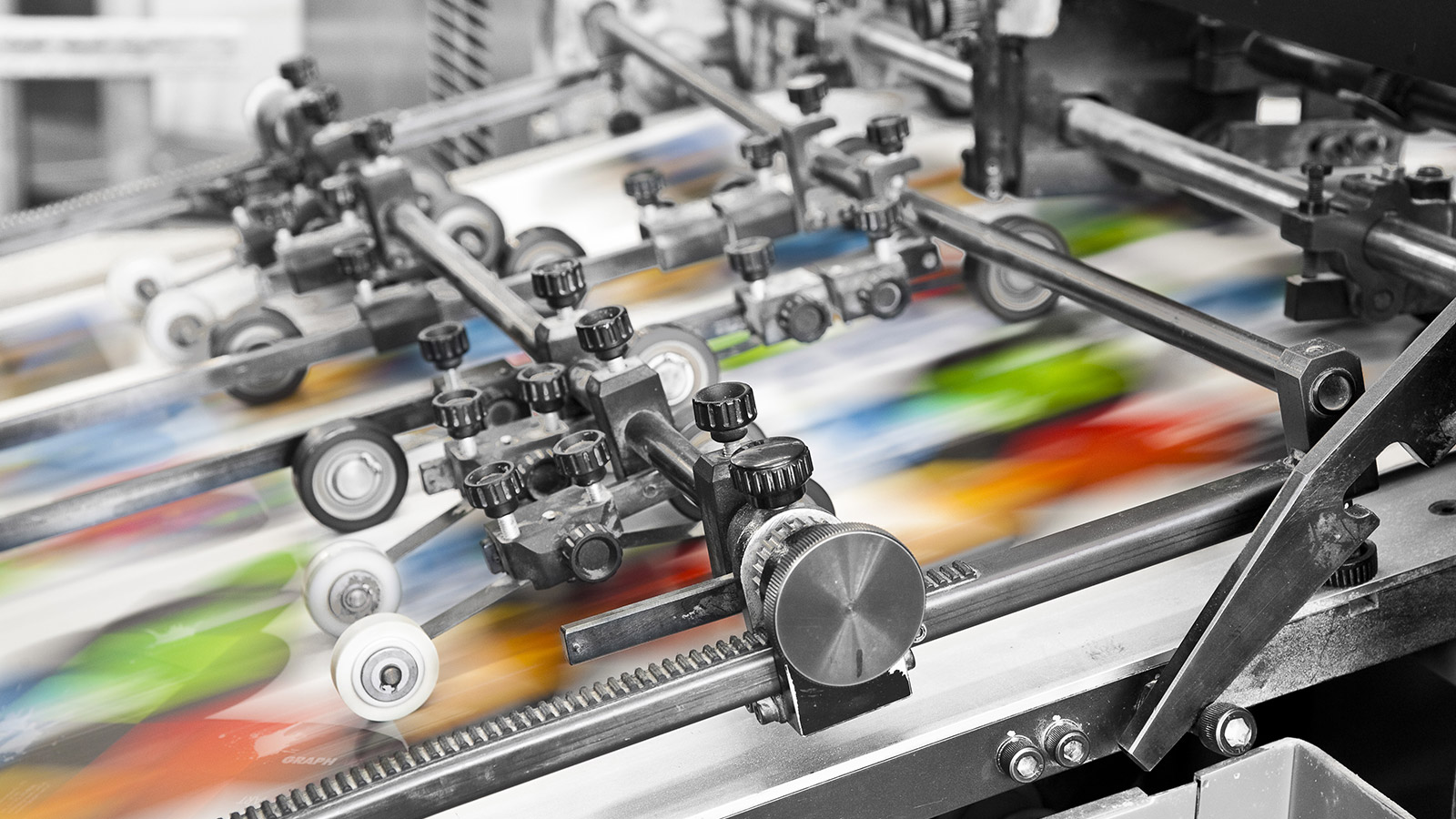 Offset vs. Digital Printing: When Is Each Right for My Packaging?
Printing has existed for centuries and continues to evolve. Digital printing has emerged as a cost-effective option for short-run folding cartons, marketing collateral, labels, and more.
However, the traditional method remains popular. Offset printing still produces high-quality results over large volumes. For folding cartons in particular, it's often the best way to elevate your brand's packaging.

So when is each printing method right for your packaging? Here's what you need to know about offset and digital printing, and the benefits of each.
About Offset Printing
Offset is a traditional printing method that relies on a series of etched aluminum plates attached to a cylinder. It uses ink transfer to copy an image onto a variety of substrates including paperboard, cardboard, plastic, and other sustainable alternatives. This can come in the form of offset lithography ("litho") or flexography ("flexo"), which uses flexible plates.
Whether you need a standard, four-color process or eight-color printing in a single pass, litho brings colors to life, capturing the nuances and fine details required by today's packaging standards. Extended gamut printing can also be employed to match your brand's custom spot colors with tremendous accuracy.
Offset can be well understood by one axiom: Ink and water don't mix.
Here's what the process looks like. An image (art and text) is placed on thin metal plates dampened by water and ink by rollers on the press. The oil-based ink adheres to the desired image area, and the water to the non-image area. The inked area is then transferred to a rubber cylinder, sometimes called a "blanket," and then onto the substrate as it passes around the blanket. This process is called "offset" since the image doesn't have direct contact with the packaging substrate. Instead, it is offset or transferred to another surface before being applied to paperboard, or your selected packaging materials.
It's difficult to outperform the high-end quality and affordability of offset printing. Here are a few reasons why it might be right for your packaging situation.
Large print runs. Although offset has greater upfront overhead because of the need for plates and the make-ready process, it's incredibly cost-effective for large volumes. Keep in mind this doesn't just mean large amounts of printed packaging, but large quantities of the same imagery.
Once you get past the set-up costs associated with traditional printing, each subsequent piece of print becomes less expensive—which is why offset is preferred for large print runs, especially when you consider the next point.
Brilliant quality. Offset printing produces rich, accurate color, and high-quality images with sharp typefaces and fine details from the first folding carton to the last. The printer controls the ink flow to maintain sharp details. So, if you have complex imagery or visual design in your packaging, offset printing makes a lot of sense.
Offset printing also accommodates a variety of decorative effects including specialty inks and coatings, inline cold foil and hot foil stamping, and embossing and debossing, to take your packaging to the next level.
It's the quality and cost-effectiveness over medium to large volumes that make offset printing the industry standard. But the possibilities of digital printing have given customers more options for their packaging.
About Digital Printing
An innovation of the information age, digital printing depends on electronic files instead of etched plates to create an image. Rollers apply toner and full-color ink directly onto the substrate. Given its simplified process, there is no need to produce plates, thus speeding up the entire printing experience.
When it comes to packaging, digital printing provides a lot of benefits. Here are a few.
Fast turnarounds. Traditional printing requires a longer set-up, including preparing metal plates for each image and color. With digital printing, you get the presses going with the change of an electronic image and a few clicks.
This makes it ideal for testing out new printed packaging or prototypes when you don't want to risk a large print run whose final product might not align with your visual expectations.
Customization and personalization. Variable data printing is made easy with digital printing. Digital enables you to produce customized or personalized packaging for temporary promotions. With variable data printing, you can include almost any customizations you'd like, such as color, text, and even imagery to give consumers packaging tailored to them—and that's important, because personalization is something they've come to expect.
For example, you can print marketing collateral specific to a geographic region without running up the costs.
Low- and medium-volume runs. While traditional printing depends on large-volume runs to be cost-effective, digital doesn't have print minimums to make financial sense. This is perfect for prototyping and marketing campaigns, where fewer quantities are traditionally needed.
At-the-ready printing. When you work with electronic files, you're capable of printing in a moment. Take a page from the Titleist playbook, one of the world's leading golf brands. They had plans to produce a commemorative package for golf balls for fans of the 2016 World Series winner. Working with Boutwell (now part of Oliver Inc.), they made available two sets of electronic files depending on who won: Chicago or Cleveland.
Game 7 of the series ended up going into extra innings, creating a tight timeline to print and ship the special edition packaging. As soon as the Chicago Cubs won, digital presses went into action, ensuring the packaging was printed and ready to ship by the next afternoon. This would not have been possible with traditional printing.
You now have a good framework for both offset and digital printing, but there's a bit more to the decision-making process. Work with a printing expert who can explain your options and deliver a solution to help you get the most out of your packaging.
The Oliver Inc. Difference
There are many factors to consider when it comes to printing and packaging, and having a trusted partner on your side can make all the difference in elevating your brand. Here are just a few ways.
Don't focus too much on one printing technique (offset or digital) or the other. Both have a role to play and, depending on your unique circumstances, either technique could be the right solution. Offset printing is generally more cost-effective per printed piece, but that doesn't mean it's always the least expensive route.
Outline your packaging goals. What do you want to prioritize? Adaptability? Upfront costs? There will be trade-offs, but an experienced printer will talk you through all your options and help you arrive at the one that makes the most sense. Be cautious of those who recommend a printing strategy before you even tell them all of your goals and contingencies. Your printer should be able to clearly outline capabilities for you depending on which benefits you want to optimize, guiding you toward the overall most cost-effective solution—without sacrificing quality.
Oliver's experts have access to top-of-the-line machines. If it's possible in the printing and packaging industry, Oliver can help you achieve it. Our proven methods deliver custom packaging you and your customers can be proud of.
You get access to a wide variety of decorative effects, such as inline cold foil, hot foil stamping, laminations, and more.
Oliver also offers fulfillment services: packaging, assembly, and finishing, all in one place. This eliminates the need for third-party vendors and additional services, saving you time and money.
There's a place for offset and digital printing in the 21st century, and by adhering to these guidelines you'll know when each method is right for your packaging situation—putting your company in a solid position to delight customers and continue fostering an inspiring brand.
With Oliver, you'll find an experienced partner eager to help you achieve your printing and packaging goals. Contact us today.
Topics