Insights: Articles & Resources by Oliver Inc.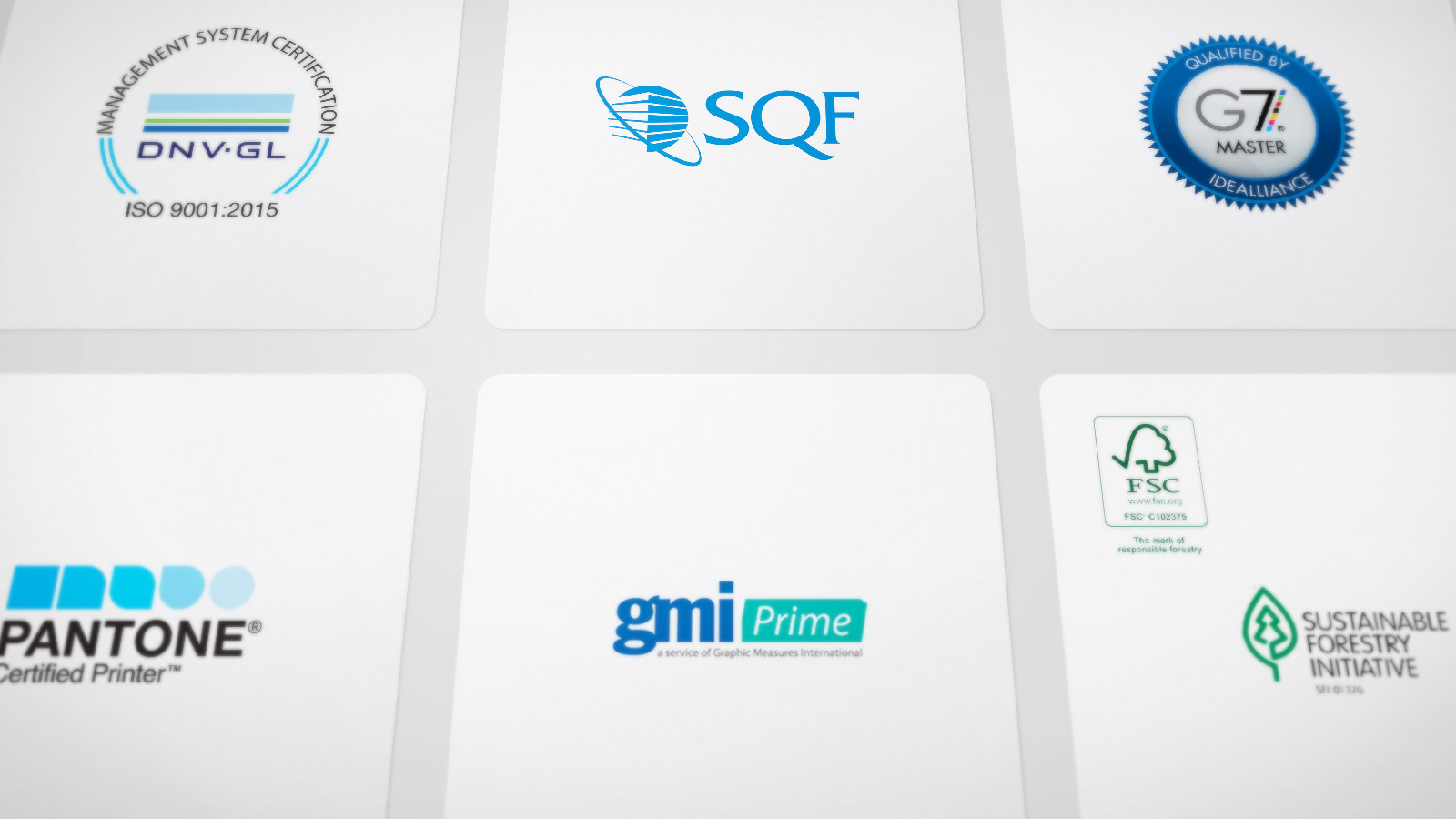 Printing & Packaging Certifications: What You Need to Know
How do you know you can trust a potential packaging partner? Sure, you can rely on word of mouth or client testimonials, but there's another way to find the reassurance you seek: certifications.
When becoming acquainted with a domestic printing and packaging partner, look for which certifications they've been awarded, each a mark of excellence from industry authorities. These certifications let you know if a manufacturer continuously invests in training and technologies to maximize efficiency and enhance the quality and consistency of their products.
There are a lot of certifications from internationally recognized organizations and it can be a challenge keeping track of them all, however. They assess everything from a manufacturer's environmental impact and food safety efforts to color consistency and quality control.
And the process to earn each one is rather rigorous. This requires manufacturers to operate at the highest level in their industries.
Let's review some of the most important certifications you'll encounter as you consider a printing and packaging partner for your next folding carton project.
ISO Manufacturing Standards
First developed in 1987 by the International Organization for Standardization (ISO), these standards articulate the best practices for various aspects of quality management in the manufacturing industry.
From design and pre-press to assemblage and labeling, they're based on a number of quality management principles, such as customer focus, process approach, and continual improvement.
ISO 9001:2015
For printing and packaging in particular, ISO 9001:2015 specifies the requirements a manufacturer must consistently meet when providing products and services. Notably, It is the most popular and widely used standard in the ISO 9000 family, which contains a set of standards for quality management and quality assurance.
ISO certification means a printing and packaging manufacturer has successfully passed an audit by an accredited certification body.
Safe Quality Food Certification
Food safety is perhaps the most important among the many questions you should ask a food packaging supplier.
A management system recognized by the Global Food Safety Initiative (GFSI), Safe Quality Food certification is designed to help food packaging supplies comply with international standards and regulations, and ensures food products are safe and high-quality for consumers.
SQF certification is managed by the Safe Quality Food Institute (SQFI), a division of the Food Marketing Institute (FMI). SQFI develops and maintains the SQF standards, which are based on the Hazard Analysis and Critical Control Point (HACCP) principles. HACCP is a systematic approach to identify, evaluate, and control food safety hazards throughout the food supply chain.
There are different levels of SQF certification, depending on the scope and complexity of the food operation:
Level 1 - This basic grade covers food safety fundamentals and is suitable for low-risk food operations that supply products to local markets.
Level 2 - An intermediate standard, this entails both food safety fundamentals and an HACCP-based food safety plan. It's most appropriate for medium-risk food operations that supply products to national or international markets.
Level 3 - The most advanced degree of SQF certification, this includes food safety fundamentals, an HACCP-based food safety plan, and sophisticated quality management system. As you might imagine, it's suited for high-risk food operations that supply products to premium markets or customers with specific quality requirements.
If a food packaging supplier hasn't earned this certification, partnering with them could expose your brand to significant liability risks.
G7 Master Certification
Attention-grabbing decorative effects such as foil stamping, embossing and debossing, laminates, and specialty coatings are vital for effective packaging design—and that starts with the proper certification.
G7 Master certification is awarded to packaging manufacturers whose printing facilities achieve visual consistency and quality across different print processes and devices. This certification is granted by Idealliance, a global association of graphic communication professionals, based on the G7 methodology—a set of specifications for calibrating printing presses and proofing systems.
This certification means you can expect reliable and high-quality color output that meets your exacting requirements.
Notably, G7 Master certification comes in three tiers, each with varying requirements, depending on scope and project complexity: Grayscale, Targeted, and Colorspace.
Pantone Certified Printer
You'll quickly learn there are multiple design certifications relevant to packaging suppliers. Each one provides you additional assurance.
The Pantone certified program is another way for printing and packaging suppliers to demonstrate their color capability and accuracy. This certification is awarded by Pantone, a world leader in color development and communication, based on their testing and calibration standards.
A rigorous certification process for printing facilities, becoming a Pantone Certified Printer requires stringent examination of every aspect of their color operations, from design and prepress to the ink kitchen and pressroom. This lets you know that the facility follows the best practices for color management and quality control, and can match one of the G7-based color spaces, such as GRACoL or SWOP.
Working with a Pantone Certified Printer often means reduced costs, as well, because printers are not only minimizing waste and ink consumption, but employing more efficient color management and workflow.
GMI-Prime Certified
GMI-Prime certification is granted by Graphic Measures International (GMI), a global leader in packaging quality services.
This certification is awarded to packaging and printing manufacturers that meet the high standards of quality and consistency required by major retailers, such as Walgreens, CVS, Home Depot, Target, and Lowe's, to name a few. The designation is especially important for private label printing that relies on color matching a store's branded product packaging (and made possible by extended gamut printing).
To be certified, printing and packaging suppliers must demonstrate they can print neutral grays and solid colors that match one of the G7-based color spaces, similar to what Pantone certification demands.
Sustainable Packaging Certifications
There are multiple certifications a printing and packaging manufacturer can earn to demonstrate their commitment to sustainability and responsible forest management principles.
FSC, SFI & PEFC
The three most common internationally recognized ones are The Forest Stewardship Council (FSC), Sustainable Forestry Initiative (SFI), and Programme for the Endorsement of Forest Certification (PEFC).
Each certification is recognized by the Global Food Safety Initiative and supported by many international environmental organizations, such as WWF, Greenpeace, and The Nature Conservancy.
These sustainable packaging programs have forest management certifications that confirm forests are being managed according to sustainability principles while chain of custody certifications that verify the path of paper-based products—from the forest to the final consumer—are handled and responsibly processed along the entire supply chain.
When you work with a printing and packaging partner certified by any of these organizations, you can be confident their wood and pulp products are ethically sourced.
The Green Power Partnership
Lastly, certification from the Green Power Partnership, a program overseen by the U.S. Environmental Protection Agency (EPA), recognizes businesses for adopting renewable energy and reducing greenhouse gas emissions.
To earn this acknowledgement, businesses must meet criteria such as using renewable energy certificates, on-site generation, or utility-based green power programs.
This certification highlights their backing of renewable energy, climate change mitigation, and sustainable energy growth.
Oliver Invests in Quality & Excellence
When choosing which printing and packaging supplier to work with, be certain their foundation is not only built upon using the most environmentally responsible materials available, but abides by internationally recognized industry standards.
At Oliver, we unceasingly invest in top-notch training and new technologies to provide our clients with the highest quality of service and printing and packaging products. That's why it's so important to us to remain up to date on all of the aforementioned certifications.
The processes are rigorous, and these internationally recognized organizations challenge us to run at platinum levels of quality—but it's worth the peace of mind and satisfaction it gives our clients.
Ultimately, we're delighted when our customers are delighted. And when your consumers are happy, so are we.
With more than 250 years of combined experience as a printing and packaging firm, Oliver is an industry leader in sustainable packaging. Plus, we prioritize staying up to date with all the aforementioned certifications. Contact us today to learn more about which packaging solutions are right for your brand.
Topics