Insights: Articles & Resources by Oliver Inc.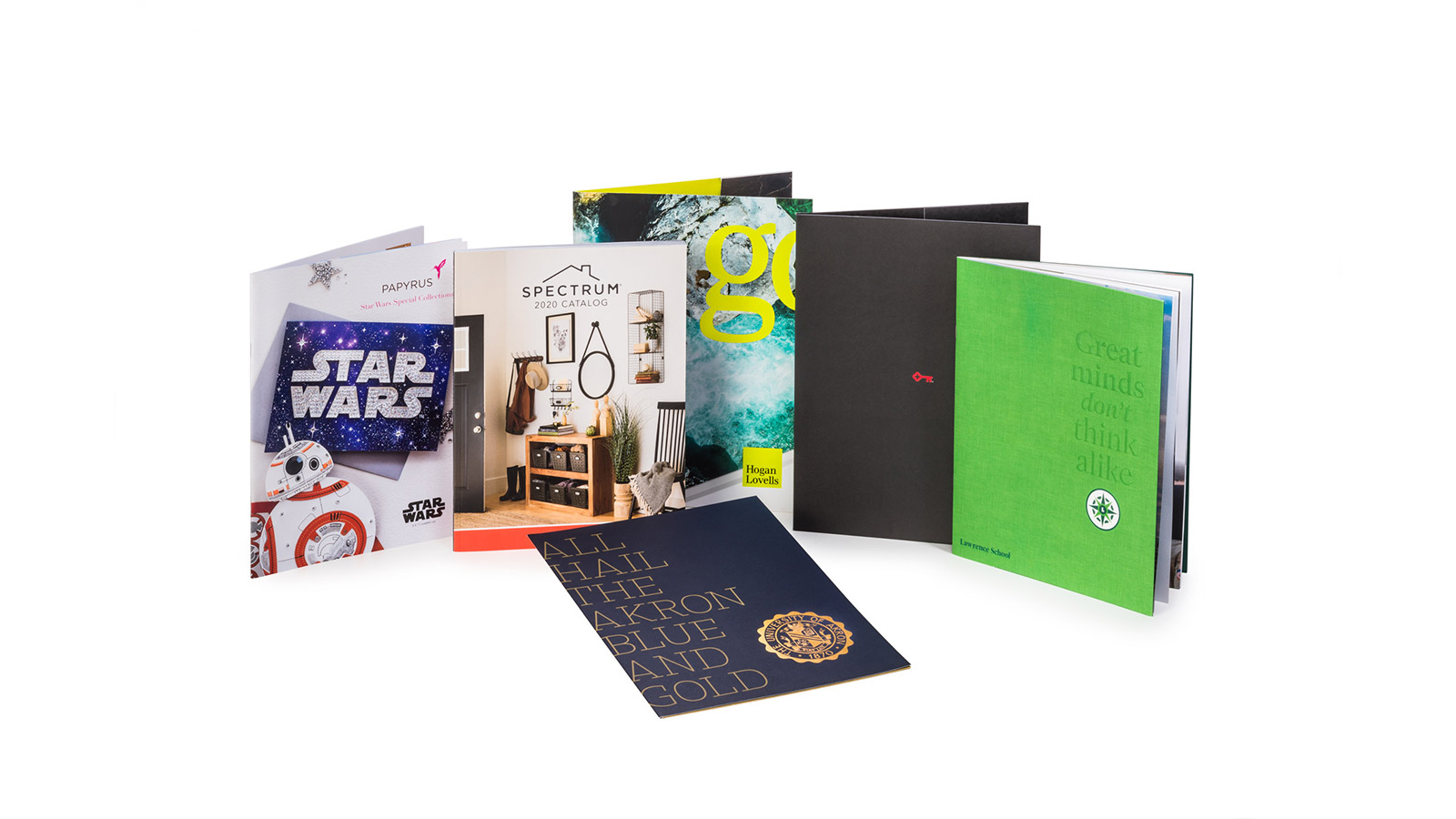 7 of the Most Effective Types of Marketing Collateral
You've likely heard that one of the secrets to effective marketing is implementing great storytelling. In the increasingly digital environment, brands have taken advantage of blogging, social media, video, podcasting, and more to deliver their message and appeal to customers. While the online marketplace remains a primary point of emphasis for brands, there's still a place for a physical presence.
In fact, it can serve you in a variety of ways. Effective marketing collateral helps you stand out in competitive fields and blends with your digital efforts to add to your brand's story. It can be used to promote new products or special events, or it can be packaged with a product to give customers something to hold on to when they dispose of the packaging.
No matter what it is—brochure, flyer, shelf talker, or catalog—marketing collateral should spread awareness about your company and add to your story. When done right, it can encourage recipients to engage with your brand across platforms. Think of a personalized message that arrives in a customer's mailbox instead of a mass email that finds itself buried within an inbox. You might speak directly in a way that inspires them to follow you on social media and use the promotion code you included on the mailer.
That's just one way companies are rethinking how to reach customers with printed materials. Here are seven examples of effective marketing collateral and how to take advantage of them today.
Brochures
Think of the modern brochure as an elevator pitch in marketing form. If you had limited time to speak to a prospective customer (and you always do), what would you say? An effective brochure should feature the graphic elements of your brand as well as brief descriptions of what you offer: the basic who, whats, whys, and hows. Brochures are particularly effective for newer companies or start-ups, especially those attending conventions or making pitches for the first time. Just make sure there's clear information on where to go next, be it a website, social media page, or contact information.
Catalogs
The catalog changed the game in the 20th century by bringing the latest products directly to consumers. It still serves an important purpose today, even as the online landscape has presented users an opportunity to explore at will. Simply put, you can tell the story behind your products in a catalog while appealing to a target audience. For example, clothing brands often feature garments in their intended settings. A brand that specializes in urban wear might place a model at a bustling happy hour. An outdoors brand would juxtapose their clothing against a rugged background, say a mountain or forest. Additionally, clean beauty companies can establish their ethical stance with images of the natural materials they source from, or scenes that evoke an environmentally conscious theme. In doing so, they push their products and tell customers what their brand stands for.
Direct Mail Campaigns
Although they feel like an outdated method, direct mail campaigns continue to prove to be effective marketing tools. Among other benefits, modern companies have found direct mailers present a return on investment almost equal to social media and higher than paid searches. The secret is delivering a personal message your recipient will appreciate and act on. This is done through variable data printing. With this digital process, you can customize mailers to a surprising degree, depending on the information you have. This could include a coupon to supplement a previous purchase. It could be a special discount you send on the customer's birthday. It could be a personalized thank you for customers' loyalty that invites them to enjoy an exclusive offer as a reward. Whatever it is, it's a tangible, thoughtful gift from your brand that's not as easy to ignore as another mass email.
Flyers & Inserts
What can your brand say in a limited space? What do you want a passerby to take with them? Keep it simple. By emphasizing only the most important graphic and copy details, you can invite consumers to learn more about a specific product or service with the use of traditional flyers (or any of their synonyms, including infographics, one-pagers, etc.). Today, they also appear in smaller forms as product inserts. This is especially important for brands who rely on e-commerce. You can slip in a special message to customers, thanking them for their purchase, and offering a discount for their next one. It also could be a supplementary piece—with more information about your brand or that specific product, a rigid commemorative card, or even simply where to find you on social media.These are meant to be kept around and inspire recipients to marvel, "Oh, this is cool." Effective flyers and inserts should also encourage engagement with a well-placed call-to-action (CTA).
Lookbooks
A lookbook is a well-designed overview of your brand. It should cover not only what you produce (or offer), but also what goes into your company—a guided tour in book form, if you will. And that's something consumers today care about. They want to know what goes into certain brands and what their core values are. The lookbook is your chance to tell them. Highlight your sustainability efforts. Describe the work environment. Cover the ethical components of your industry and how you support them. In short, inspire the reader to co-sign your brand.
Marketing Kits
Effective marketing kits provide multi-layered experiences for their recipients. Often in the form of a folder, they open to reveal additional marketing materials such as flyers, samples, brochures, and, of course, business cards. When complete, the kit shows the breadth of your brand, what you offer in products and services, and the quality you consistently deliver. If done well, marketing kits serve as perfect giveaways at presentations or conventions. They encourage the recipient to explore your brand on their own time. The bonus is if the folder is done well, with a combination of clever graphic and physical designs, they'll continue to reuse it. Wherever it goes, so too does your brand.
Shelf Talkers
It's not the most imaginative name for this particular piece of marketing collateral, but it does cover the purpose. Shelf talkers speak to customers who wander crowded store aisles. You want to grab their attention and if you could, ask them to stop and consider your products. That's where shelf talkers come in. They often feature eye-catching elements that highlight your brand and offer a deal of some sort: buy one, get one, for example. Mostly, they're fun. The decorative touches can even play off the packaging (and vice versa) to create a two-tiered advertising effect to attract customers.
These seven examples of effective marketing collateral are a lot to consider as you discuss future campaigns. You may love the idea of a lookbook and think, "Yes, we need that." You may try and dig up information about the last time you sent out a direct mailer. These shouldn't be seen as entirely individual projects, however. Rather, you should build a campaign of digital and physical marketing assets that work cohesively to raise brand awareness and increase engagement.
To do that, you need a printing partner that can help you deliver consistent messaging and quality across the different aspects of the campaign. This means consistent coloring (preferably with the cost-effective, vibrant gamut extended printing); eye-catching decorative effects like metallic inks, foil stamping, or spot gloss coating to name a few; and finishing and fulfillment services to ensure your materials are delivered as intended. The right printer makes all the difference.
Brands across industries have trusted Oliver for all of their marketing collateral needs. Explore our offerings and contact us to find out how you too can campaign with confidence.
Topics