Insights: Articles & Resources by Oliver Inc.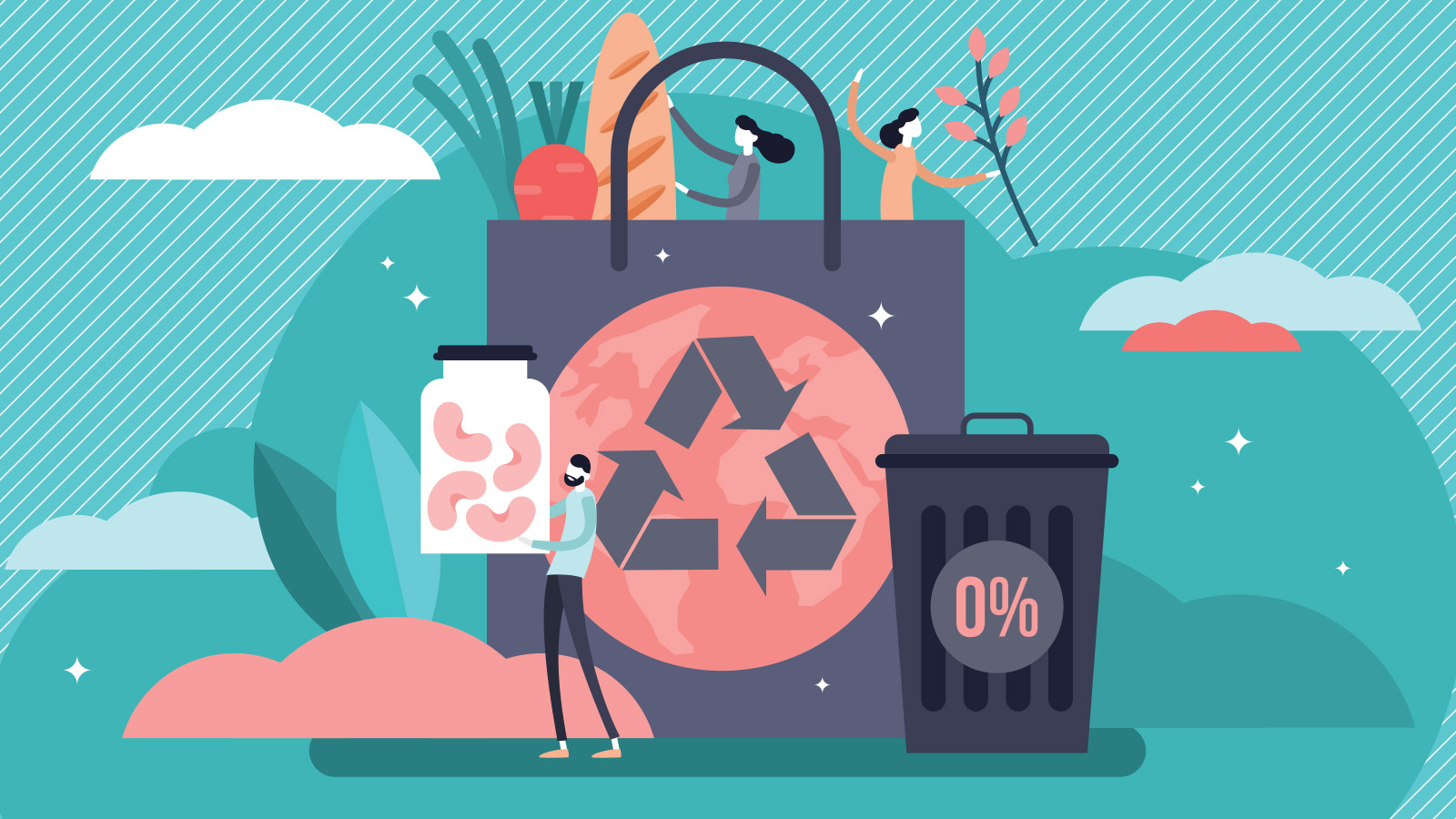 How to Achieve More Sustainable Food Packaging
Among the top considerations for food packaging, sustainability is increasingly important to brands. In fact, according to an October 2021 report from marketing insights resource Think With Google, sustainability is a high priority for 82% of consumers.
They want to know what steps you're taking to become a more environmentally responsible company.
Fortunately for the food and beverage industry, there are numerous ways to do this with sustainable packaging.
What Is Sustainable Food Packaging?
To embrace sustainable food packaging is to reduce unnecessary materials, minimize plastics, localize supply chains, and implement sustainable alternatives when appropriate. Sustainable packaging is about leaving a minimal environmental impact, accounting for every stage of the design, printing, and shipping process—as well as once packaging is opened and discarded.
Abiding by right-size packaging principles means your brand uses only enough materials to secure and protect a product. Any more than that is wasteful—and potentially extra costly, given the so-called "air tax" for non-essential air pockets or materials.
Limiting your carbon footprint includes accounting for energy sources throughout every phase of the packaging process, including what's used to power your warehouses, distances materials are transported, and even the carbon emissions third-party vendors contribute to the atmosphere.
For instance, sustainable food packaging suppliers source printing substrates from responsibly managed forests. To guarantee your materials are derived from sustainable forests, look for certifications by the nonprofit Forest Stewardship Council (FSC), Sustainable Forestry Initiative (SFI), or Programme for the Endorsement of Forest Certification (PEFC).
While many industries still rely on plastic for some packaging components, sustainable food packaging tends to rely on paperboard (which is renewable) or other green alternatives, such as substrates consisting of hemp, cotton, and other biodegradable materials.
Don't forget post-consumer recycled materials are another worthwhile alternative to any single-use substrate. Recyclable food packaging is a key component to sustainability.
In addition to leaving a more positive environmental impact, sustainable food packaging has many business advantages, as well. Sustainable alternatives tend to have fewer toxins and allergens, which is essential for the food industry where safe packaging is a high priority.
And perhaps most importantly, with a growing number of consumers looking for environmentally friendly options, implementing sustainable food packaging helps your brand foster strong consumer loyalty. Consumers want a brand to reflect their values and ethical commitments.
Going all in on sustainable food packaging makes it easier for consumers to make the environmentally conscious choice. Their appreciation will certainly manifest in strong brand advocacy for you.
Selecting the Right Materials
One of the most straightforward ways a brand can achieve more sustainable food packaging is to start with choosing the right materials, accounting for safety as well as sustainability.
While remaining protective, sustainable food packaging materials aim to be renewable, recyclable, and/or have low environmental impact. Here are just a few of the best materials for sustainable packaging.
Hemp is the most recent trend in sustainable packaging, be it folding cartons, shelf-ready boxes, printed marketing collateral, or a variety of other substrate forms. While its slightly rougher texture might be a challenge for shiny finishes, hemp's unique look is a clear and consistent signal of sustainability to consumers.
It's worth noting that hemp can still be expensive and isn't entirely tree-free—the fibers relying on a small amount of paper to hold them together.
Straw and recycled cotton fibers are a new development from Mohawk Fine Papers, Inc. While limited in their applications, they're sustainable options for marketing collateral, stationary, and greeting cards.
100% recycled paper is generally the most cost-effective sustainable food packaging option, hence its popularity. Performing as well as traditional materials, it has the added benefit of reducing carbon footprints and ecological impacts.
100% recyclable metallized paperboard, a Unilustre® (from Unifoil) material, is a repulpable, film- and plastic-free substrate that performs like paper. The material is excellent for embossing/debossing. With no plasticizers, it also retains tamper-evident and glueability qualities similar to traditional paperboard while having excellent scoring.
Casein is a milk protein that can be used to wrap and preserve food. In fact, given that it's less porous than traditional plastic film, it's both sustainable and more effective at maintaining food freshness and protection from the elements.
Soy- and vegetable-based inks are worth implementing, as well. While not part of the substrate, these biodegradable inks can be just as effective for visual design, and less expensive than their petroleum-based counterparts. It's hard to say no when this option is both environmentally friendly and cost effective.
Once you've determined your desired substrate, you'll also want to consider whether to include barrier coatings, windowing, and airflow into your overall food packaging design.
Importance of SQF Certification
As you implement sustainable food packaging, be certain your printing and packaging manufacturer maintains SQF certification. This ensures that your supplier meets the highest global health and safety standards, keeping your consumers happy and healthy.
What Exactly Is SQF Certification?
The Global Food Safety Initiative (GFSI) was founded in 2000 to deal with the growing food safety problems at the end of the last century. This international program's goal is to enhance and harmonize food safety systems so they can nourish the expanding, global population and develop markets that can provide food safely–no matter where in the world the consumer is located.
Instead of creating its own safety certifications, GFSI approves so-called "certification program owners" (CPOs), autonomous entities that meet its prescribed standards. This includes the Safe Quality Food (SQF) certification.
Manufacturers who get an SQF certification demonstrate that their food processes follow the highest global safety standards. The certification covers industry, customer, and regulatory requirements for all parts of the supply chain, from farm to fork.
The SQF Food Safety Program entails six categories of codes: primary production, food retail, manufacturing, food packaging, storage and distribution, and quality.
Benefits of Working With an SQF-Certified Food Packaging Supplier
An SQF certification is a good indicator when looking for a packaging partner.
It tells you right away that the manufacturer is capable of safely handling your food products, and its packaging is suitable for direct food contact. More importantly, it shows their dedication to quality, because the process to get certification is thorough, careful, and continuous.
If you toured their facility, you'd see signs of safety standards abound—from hair nets to handwashing stations at entrances. The plant must be almost spotless to avoid contamination.
By making SQF certification an essential part of your search for a sustainable food packaging supplier, you can be confident their food packaging solution is not only eco-friendly but enhances branding without compromising safety.
Achieving Your Sustainability Goals
Putting these principles into practice, many brands are finding creative ways to bring sustainable packaging to food. The possibilities are abundant.
Before committing to a printing and packaging partner, there are several other questions you should ask regarding sustainable food packaging: How will design affect shelf life? How will packaging support branding? And, what are my design options?
As you adopt more sustainable food packaging, you'll find it's never been easier to deliver food and beverage products to large markets while embracing more environmentally conscious approaches.
Oliver is an SQF-certified manufacturer with more than 250 years of combined experience. A leader in food packaging, Oliver is eager to help you achieve your sustainability goals. Contact us today to learn more about your sustainable food packaging options.
Topics