Insights: Articles & Resources by Oliver Inc.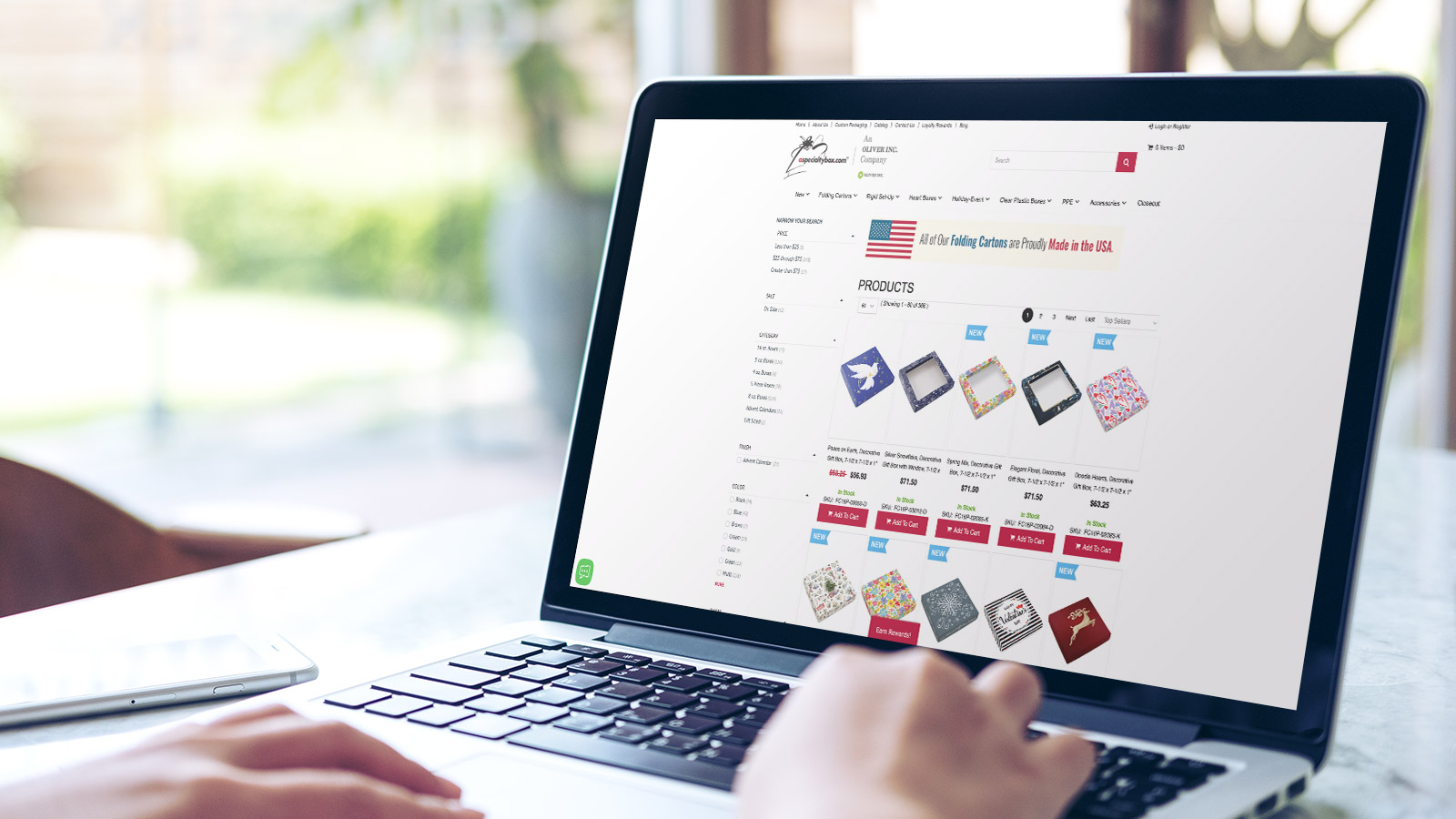 Custom Carton Boxes vs. Wholesale Cartons: What's Right for Me?
Folding cartons, or carton boxes, are the bread and butter of packaging for many industries, including food and beverage, health and beauty, cannabis, and even pharmaceuticals.
Paperboard-based, carton boxes are a simple tool for securing your products, appealing to consumers, and communicating about your brand.
Sometimes it's challenging to know whether wholesale or custom cartons are right for you.
Let's unpack this.
Wholesale Cartons
Where they lack in promotional value, wholesale cartons make up for in practicality. They prioritize function at a lower cost, namely protecting your products during shipping, storage, and display, while also providing some marketing benefits.
Wholesale cartons may not offer you unique packaging designs, but they excel as specialty boxes for seasonal events or momentous occasions. That's when you can buy in bulk without the added costs of custom design.
For instance, look at these pristine holiday gift boxes. Almost any brand can benefit from producing joyful advent calendars or seasonal packaging.
Keep in mind: Wholesale doesn't necessarily mean plain or forgettable.
You can still find wholesale boxes that feature foil stamping, embossing/debossing, windowing, and other eye-grabbing decorative effects.
Custom Carton Boxes
With custom folding boxes, you have much greater control over design and packaging materials, obviously. However, it is usually more expensive. For instance, creating custom decorative effects or folding carton designs requires forging new printing plates and other components.
On the other hand, custom folding boxes open up boundless possibilities for how you can promote your brand and nab consumer attention, such as these folding cartons for hair color specialists Pulp Riot. By utilizing gloss UV and reticulating varnish, these packages really stand out.
Implementing custom folding boxes means your packaging won't easily be confused with other brands or products. This also comes at a more expensive upfront cost that can be worth it in the long run.
So how do you determine whether custom carton boxes or wholesale cartons are the proper packaging solution for you?
Choosing Between the Two
You'll want to consult with an experienced printing and packaging partner, but let's consider a few scenarios where custom carton boxes and wholesale cartons make the most sense.
Suppose you need to make a small run of folding cartons with a fast turnaround. The natural choice may be wholesale cartons because you get to bypass much of the design phase and go straight to press.
Plus, custom carton boxes are much more costly for small print runs because they don't enjoy the financial benefits of scale that come from larger print runs. If you're employing traditional or offset printing, then you'll need to create new plates, which can be costly, only becoming less expensive with each subsequent folding carton printed.
Alternatively, if you want to do a large print run, have plenty of runway, and wholesale cartons don't offer a sufficiently original look for your brand, then custom carton boxes are a reasonable option. Not having to worry about a tight delivery deadline and wanting to prioritize decorative effects makes custom carton boxes the natural choice.
If you're considering a special promotional or seasonal product, wholesale cartons are a promising choice. With fast turnaround print runs, you can also lean into the more common designs consumers expect from these types of packaging, all while advancing your brand's reach.
It's a cost-effective way to remain relevant in your industry or sector.
Now, if you want to do something special for a product launch or, say, a 50th anniversary, you may prefer the custom route, where you can dictate every detail of the packaging. Just be certain you have enough runway for the design-review process and the time it takes to manufacture the attendant components for printing custom carton boxes.
What's Right for You?
It's beneficial to collaborate with a printing and packaging partner capable of providing custom carton boxes and wholesale cartons. They have a better idea than most for when each is right for you.
Fortunately, Oliver prints custom folding boxes and wholesale cartons. With multiple facilities throughout the United States, Oliver has the agility of a small shop plus the scaling capabilities of a big one. This facilitates faster turnaround on large wholesale orders and more cost-effective design on small custom orders than other printing and packaging manufacturers.
Plus, everything from printing and packaging to fulfillment and shipping can be done in house, giving you a one-stop solution to your many packaging challenges.
So whatever your situation, Oliver can talk you through possible approaches and find the one that is right for you.
Oliver is a printing and packaging company with more than 250 years of combined experience. Contact us today to learn more about which folding carton solution best suits your packaging needs.