Insights: Articles & Resources by Oliver Inc.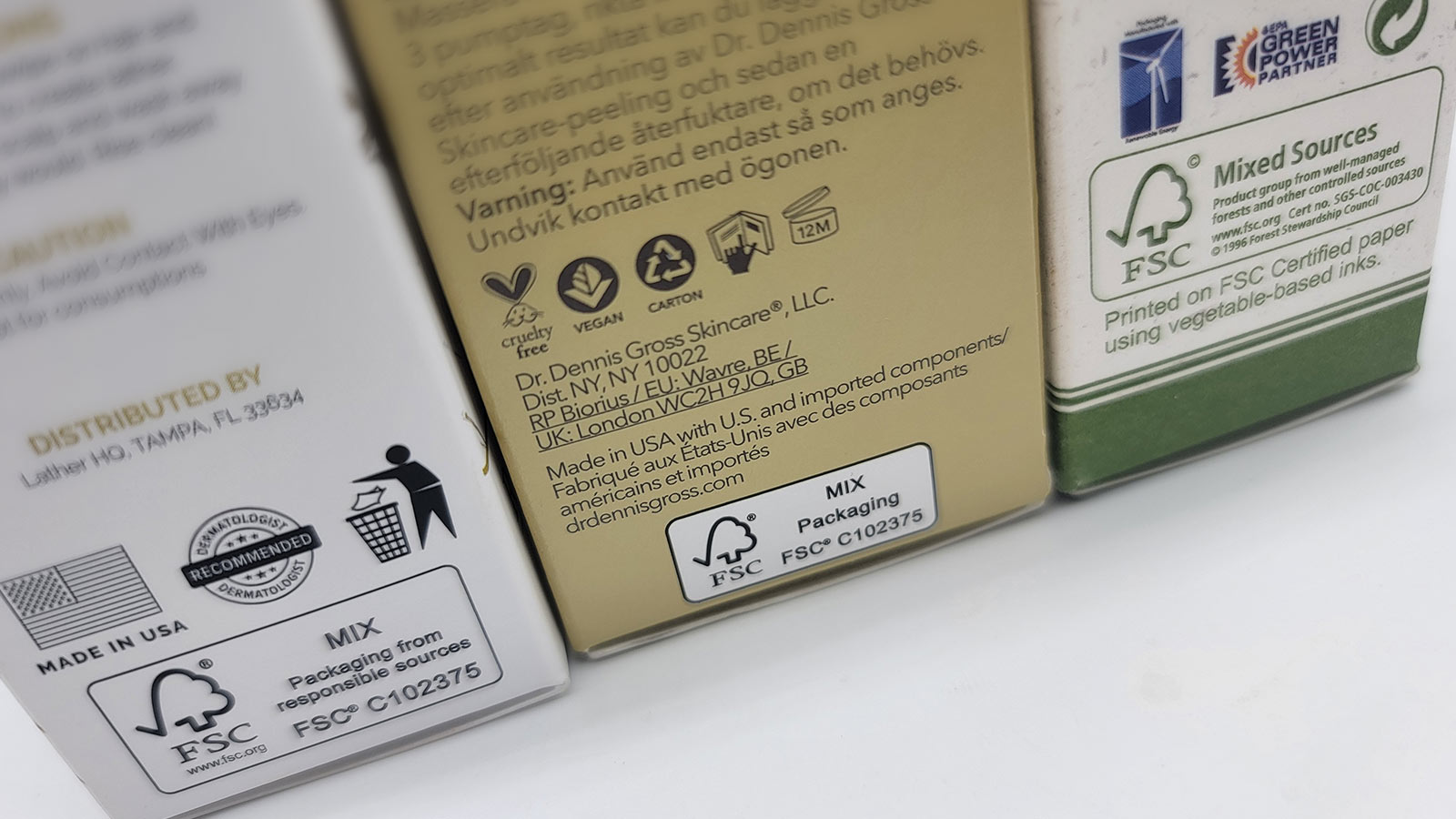 What Sustainable Packaging Certifications Should You Know About?
Transitioning into a business that prioritizes sustainability can be a challenge.
Supply chains are complex, and many of their inputs are often obscured, making it difficult to identify which third parties leave the least environmental impact and contribute the most to communities threatened by unethical business practices.
Fortunately, several organizations have formed in recent decades to help brands more easily discern whether their packaging is sustainable or not. They provide standards and guidelines that are then used by accreditation agencies to award sustainability certification to printing and packaging manufacturers.
But before looking at those certifications, let's consider what qualifies as sustainable packaging.
The Basics of Sustainable Packaging Design
In simple terms, sustainable packaging design is about reducing your ecological impact. But there are many sustainable practices businesses can adopt to become more green. Here are just a few.
Shrink your carbon footprint. Localizing your supply chain and working with a domestic packaging partner is a major way to minimize emission of greenhouse gasses. Switching to renewable energy sources at every stage of the manufacturing and distribution process is important, as well.
This includes working with more environmentally conscious third parties that are also shrinking their carbon footprint.
Adopt right-sized packaging. This means using only as much packaging materials as you need to sufficiently secure and protect your products. That includes removing excessive air pockets or empty spaces in boxes or folding cartons.
Think of it this way: Superfluous bulk in your packaging results in a so-called "air tax," where you're essentially paying extra to ship or transport products. So, going more green can save you money while enabling you to do the right thing.
Lean into the circular economy. Reflected in the phrase "reduce, reuse, and recycle," this approach to economic activity is primarily informed by a commitment to sustainability. Contrast this with the linear economy, which can be described as "take, make, and waste."
Much of this packaging waste comes in the form of single-use plastics or timber products sourced from irresponsibly managed forests. Alternatively, the circular economy is about regenerating the natural environment, eliminating waste, and shifting toward renewable resources wherever possible.
Whenever you don't know how a packaging material will be used after its current lifecycle phase, there's an opportunity to integrate greater sustainability into your business.
Select renewable materials. Paperboard for folding cartons should derive from responsibly managed forests or consist of other organic alternatives such as hemp, cotton, casein protein, or sugarcane bagasse, for example. Utilizing post-consumer recycled materials is a solid option, as well.
You don't have to completely remove plastics from your packaging design, but you should eliminate single-use plastics wherever possible. It's also worth noting that using vegetable-oil based inks can make your operations more sustainable.
Adopt ethical business practices. Sustainability isn't just about packaging materials, though. Worker conditions and a product's impact on local communities are important factors, as well.
Consider this: If your business model doesn't contribute to the social, environmental, and economic well-being of the communities in which it operates, then it isn't going to have long-term sustainability (or viability).
Sustainable Packaging Certifications
The easiest way to determine whether a potential printing and packaging partner embraces sustainable packaging design is to look for which certifications they've earned.
There are several sustainable packaging certifications out there, each with its own set of standards and auditing processes. Here are some of the most common ones you'll encounter.
Forest Stewardship Council (FSC)
FSC is an internationally recognized nonprofit dedicated to protecting forests for future generations. Its mission is to foster forest stewardship that's environmentally sound, socially responsible, and economically sustainable.
Toward this end, FSC has created a set of 10 principles and 57 Criteria that apply to FSC-certified forests around the globe.
These principles pertain to compliance with environmental laws, long-term tenure and rights use, respecting Indigenous peoples' rights, conserving biological diversity and high value conservation forests, and generating other ecological benefits to forests, to name a few.
Programme for the Endorsement of Forest Certification (PEFC)
Started in 1999 by a cadre of small- and family-owned forests in Europe, PEFC is one of the largest forest certification programs in the world. PEFC works with national organizations to help determine which local forests are responsibly managed.
Essentially, PEFC establishes benchmark standards that are used by national forest certification systems to then award certification to chain-of-custody compliant organizations.
These international standards and guides go through a detailed and rigorous process, involving multi-stakeholder working groups, before they are developed and approved. Once sufficient consensus has been reached, the standards are implemented and local governing bodies can award businesses with certification.
Such criteria includes whether forest management enhances ecosystem biodiversity, protects ecologically important forest areas, complies with worker rights conventions established by the International Labor Organization (ILO), prohibits genetically modified trees and use of most hazardous chemicals, and promotes the health and well-being of forest communities, to name a few.
Sustainable Forestry Initiative (SFI)
Independent nonprofit SFI collaborates with a diverse network to address local and global sustainability challenges centered around healthy forests.
SFI maintains several sustainability programs, including forest management, fiber sourcing, chain-of-custody, and certified sourcing certification. Each of these has its own standards and guidelines, as well.
For example, the chain-of-custody certification monitors forest-fiber content using one of three optional approaches: physical separation, percentage, and the credit method.
There are many social, environmental, and economic factors that tie into the three major sustainable packaging certifications. Ecosystems are complex webs of relationships—which is why it takes a great deal of work for a manufacturer to pass an audit and be awarded any of these certifications.
But it's worth it if you're genuinely committed to a more sustainable future.
When you're searching for a printing and packaging partner that takes sustainability seriously, look for any of those abbreviations on their website or packaging materials.
Doing so will save you a lot of time, and provide long-lasting peace of mind.
Oliver Inc. is the nation's leading independent supplier of custom paperboard packaging solutions

. We continuously invest in training and technologies to ensure the highest degree of sustainability for our products. Contact us today to learn more about our sustainable packaging certifications.
Topics