Insights: Articles & Resources by Oliver Inc.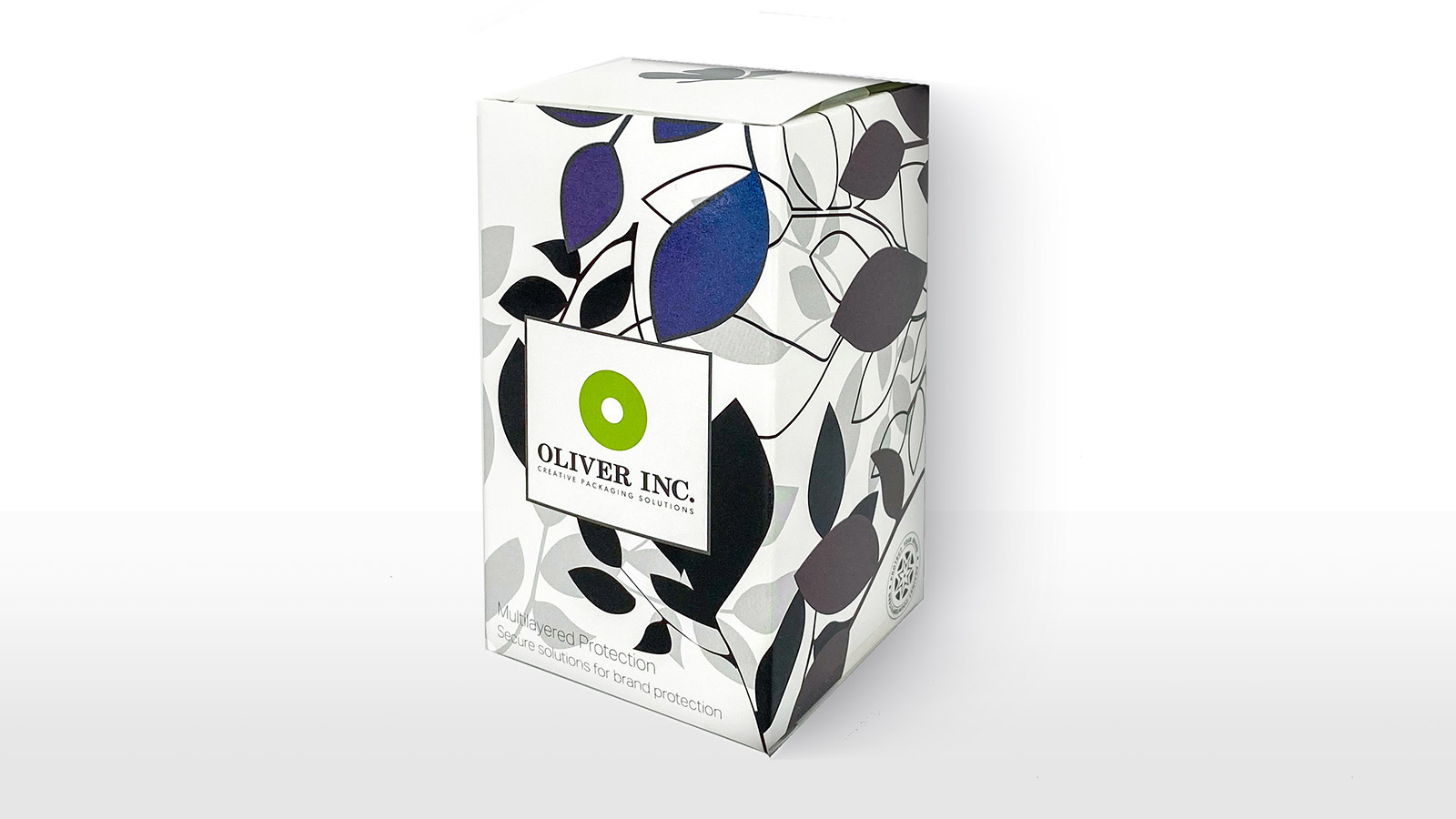 Innovative Folding Cartons: Trends to Watch
It's a thrilling time for packaging, given the recent innovations in folding cartons. While many of the basic elements remain, they're becoming a packaging medium with impressive amounts of technology and marketing genius baked in.
To meet new challenges, brands are implementing new strategies for developing affinity with their customers. Some are extensions of well-established trends, while others are forging new paths.
Let's take a look at some of them.
Anti-Counterfeiting During the Rise of E-Commerce
Counterfeiters have become more sophisticated in recent years, enabled, in part, by e-commerce facilitating additional channels for them to deliver illegitimate products to consumers. Roughly $600 billion worth of counterfeit goods are sold each year.
Counterfeiting not only hurts a company's ability to operate, but compromises trust among consumers (and puts them at risk). To counteract this, packaging manufacturers are partnering with brands to generate inventive anti-counterfeiting solutions to protect the integrity of their products.
Overt Authentication Solutions
Color-shifting inks change colors depending on a person's point of view. Pearlescent inks create a glistening visual effect that's challenging to reproduce. Tamper-evident closures and labels help consumers and vendors know whether a product has been modified or previously opened. Holographic seals and labels are high-end printing capabilities difficult to duplicate. Specialized 2D and QR codes enable manufacturers to track movement of their products, ensuring they end up in the right hands.
Covert Authentication Solutions
To stump more advanced criminals, digital technology is being employed. UV and infrared light-reaction inks verify packaging is authentic. Thermochromic inks make special images appear when exposed to dramatic temperature changes. Hidden indicia is an element that remains concealed unless seen through a special lens or decoding software. Digimarc barcodes and digital watermarking are similarly hidden, and only detectable with enabled devices. Taggants are invisible molecular or optical markers added to inks or coatings, also only discernible with devices calibrated for a particular brand.
By adopting a mix of these anti-counterfeiting measures, brands are shoring up their defenses against criminal commerce.
Clever Structural Designs
Folding cartons need to be both eye-catching and structurally compelling.
For example, shelf-ready packaging is popular in the food, beverage, and confectionary industries. These folding cartons are often used as counter displays, enabling retailers to more quickly move product into the hands of consumers.
Similarly ingenious in design, setup boxes have become quite ubiquitous, as well. Using denser paperboard than typical folding cartons, these stand out due to their construction and tactile nature. Combining firmness with decorative and textured coatings, brands are utilizing setup boxes to create memorable packaging experiences for consumers.
In addition to being structurally innovative, folding cartons ought to abide by right-size packaging principles as well. In other words, the packaging goal is to use only as much material as is necessary to protect or secure a product, no more. Brands routinely embrace this as a sustainability practice, but it also saves money on materials. Plus, companies avoid paying the air tax—the extra shipping costs of having unnecessary space in their packaging.
Brand Synergy
More brands are embracing synergy, the effort to connect each point of contact a customer has with a brand into one cohesive experience. Whether it's online, in the shopping aisle, or via email, consumers should encounter consistent messaging that reinforces their affinity with the brand. Folding cartons, labels, and marketing collateral must be sharp and of the highest quality.
Understanding this, brands are utilizing durable folding cartons with premium decorative elements that don't fade or easily get scuffed when transported or handled in stores. It may not be entirely a brand's fault when a folding carton is damaged, but consumers don't know that, and they will likely connect flaws in packaging with deficiencies in your brand.
Again, messaging must be consistent. If your brand, for instance, is sustainable, you'll want to embrace right-size packaging, consider using sustainable board options, and employ earth tones in your design elements. Wherever a consumer encounters your brand, they should feel and think the same things toward your company.
Extending the Customer Experience Beyond Packaging
Related to synergy, leading brands are broadening the customer experience with packaging. Folding cartons are not merely vessels for products.
For instance, QR codes can be used to enhance a customer's experience by enabling them to "try it before you buy it" using augmented reality.
Additionally, health and beauty brands utilize QR codes to help consumers personalize exactly how they want to use their products. Packaging instantly connects consumers to their online profile, opening up new possibilities on a brand's website.
Sustainability: Using Tree-Free Board
More and more consumers expect brands to be sustainable, and that includes their packaging. To meet this demand, tree-free alternatives are becoming more common. For instance, once treated as waste discarded by farmers, bagasse is a sugarcane byproduct now used as an alternative to paperboard.
Its appeal resides in the fact it's 100% biodegradable and compostable, free of BPA, chlorine, and petroleum, and USDA bio-preferred. Brands wanting to position themselves as sustainable should have at least some tree-free alternatives in their packaging catalogue.
Packaging continues to innovate, empowering brands with more ways to engage and delight their customers. By adopting anti-counterfeiting packaging and clever structural designs, embracing brand synergy and expansive customer experiences, and using tree-free alternatives in their folding cartons, brands can establish themselves as industry leaders.
Oliver is a printing and packaging company with more than 250 years of experience. Equipped with advanced capabilities and a commitment to excellence, we are eager to help you determine your next folding carton design. Contact us today to learn more.
Topics