Oliver Inc. Partners With Emerald Brand to Expand Tree-Free™ Packaging Options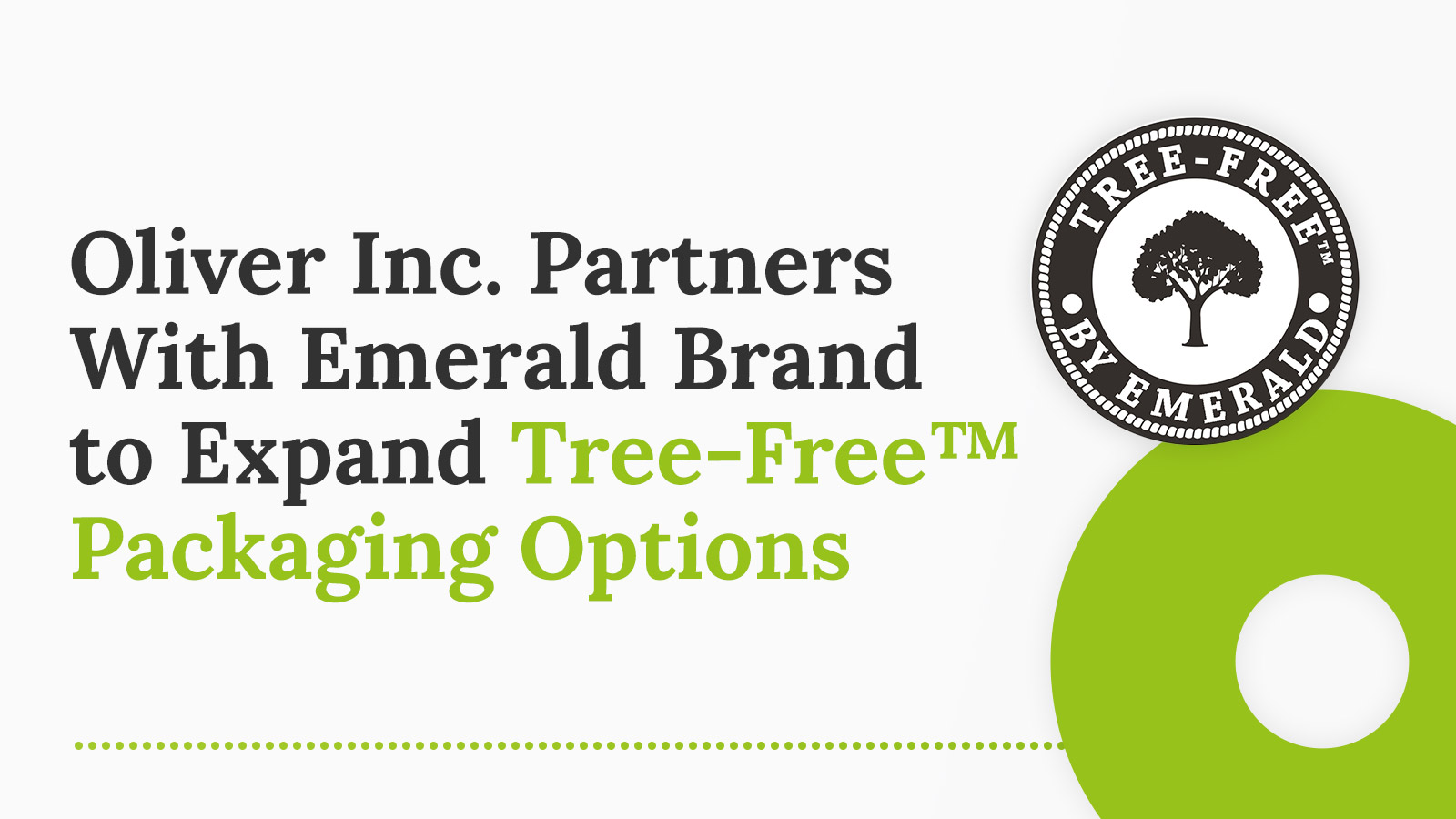 March 19, 2021
Oliver Inc. has announced a partnership with Emerald Brand, an innovator in producing sustainable materials to combat deforestation and limit the use of plastics.
The two companies will work together to expand Tree-Free™ options for use in folding cartons, printed marketing collateral, and more. With Emerald's innovative technology and Oliver's creative packaging solutions, this partnership represents both companies' commitment to sustainability and benefits brands across industries that are looking to implement eco-friendly measures.
"We are very proud of the strategic relationship we have with Emerald Brand to use their proven line of tree-free paperboard," says Doug Doroh, Vice President of Sales and Marketing at Oliver Inc. "While many companies specify recycled and post-consumer waste content paperboard, we have identified a growing list of brands looking for alternatives to traditional paperboard. Together with Emerald, we provide customers with a reliable and consistent supply chain of Tree-Free™ alternatives."
Oliver Inc. and Emerald Brand pride themselves on creativity and reliability. Oliver Inc., with manufacturing centers in Ohio, New York, and Virginia, has more than 250 years of combined experience in delivering custom packaging and printing solutions for brands across industries. The company is known for its innovations and white-glove customer service. Since 1997, Emerald Brand has been bringing sustainable, disposable options to businesses nationally. They're also experts in cost-effectively converting facilities and brands to full-circle sustainability programs.
More recently, Emerald has taken their innovative alternative materials and put them to use in the packaging industry.
"As we partner with more qualified, strategic converters that understand our mission in delivering a Tree-Free experience to brands across the U.S., education will continue to be at the forefront of our mission," says RJ Bianculli, Managing Director at Emerald Brand. "Brands across all silos including beauty, cosmetics, fashion, and pharmaceuticals are looking for innovative ways to create healthier and more sustainable experiences for their customers and our technology allows them to do just that."
About Oliver Inc.
Oliver Inc. is a leading provider of highly customized, quick-turnaround, packaging and marketing collateral solutions. Known for its white-glove approach to customer service, the company provides a turnkey platform from design to fulfillment, simplifying complex requirements with consistent on-time, on-budget, ultra-high-quality products and services.
About Emerald Brand
Innovators in material technology since 1997, Emerald Brand is committed to aiding the end of deforestation and the plastic crisis. Emerald's innovations in Tree-Free™ technology and petroleum-free plastics are revolutionizing packaging and disposables worldwide. Emerald's growing portfolio offers over 300 finished products as well as sustainable options brands can use to take their products to the next level.