Oliver Inc. Installs New Heidelberg Speedmaster Press at Cleveland Location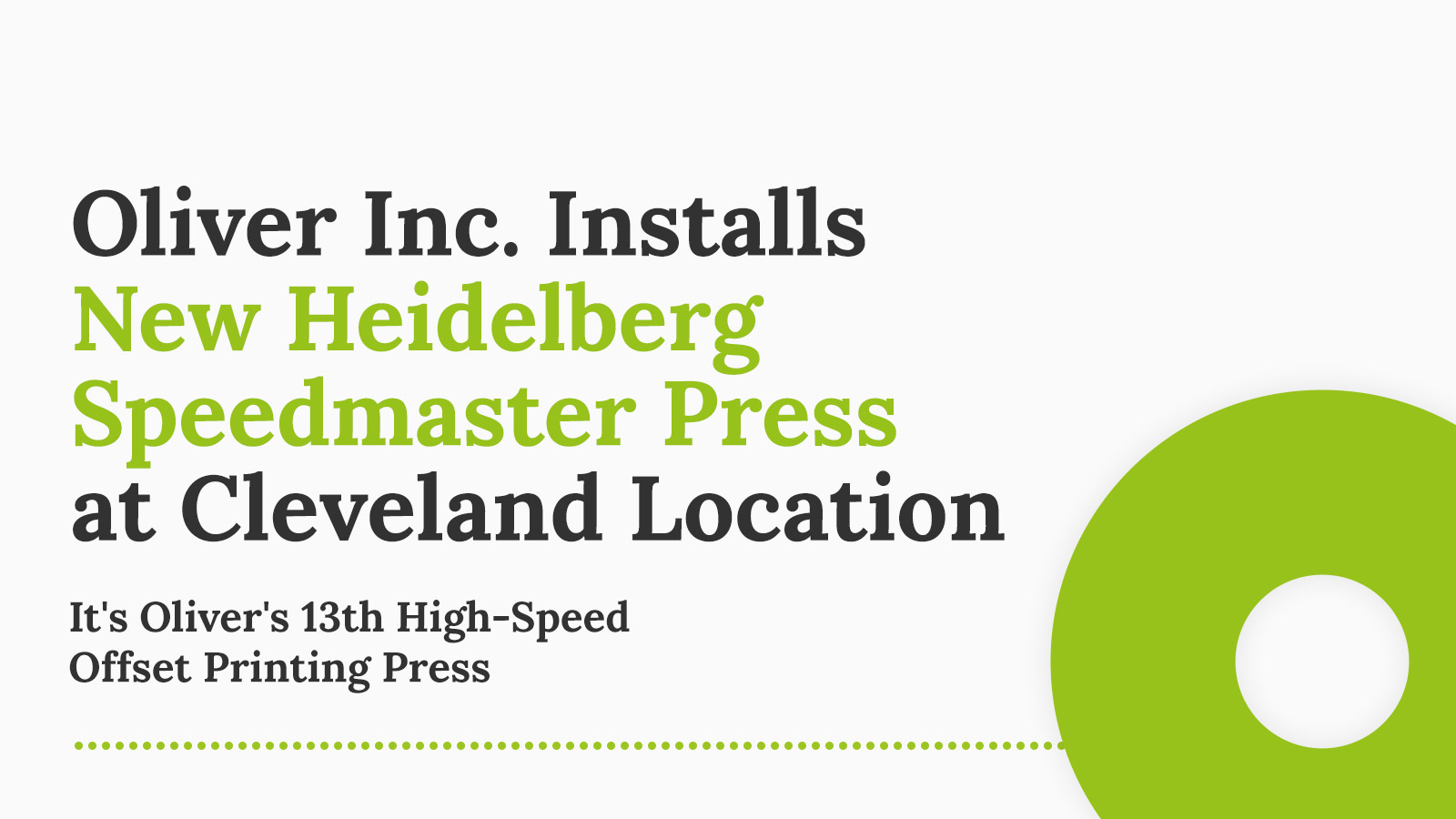 June 29, 2023
Hauppauge, New York – Oliver Inc. ("Oliver"), the nation's leading independent supplier of custom paperboard packaging solutions, has installed its 13th high-speed offset printing press – a Heidelberg Speedmaster XL 106 – in its Cleveland location.
Recognized as the most intelligent Speedmaster yet, this six-color conventional press features continuous production speeds of 18,000 sheets per hour, inline and automated color correction, an automated make-ready for changing substrates and hanging plates, and continuous optimization through artificial intelligence.
"Our facility in Cleveland serves the packaging needs of a wide range of consumer products – from emerging companies to global brands – the pressure to continue to expand capacity was strong," said Tony Hyland, Vice President and General Manager of Oliver's Cleveland facility. "We're pleased to have been able to install a significant number of new machines that will allow us to grow with our customers."
Due to increased demand, Oliver has invested more than $7 million in its Cleveland location to increase capacity by 50 percent by adding the following equipment over the past 18 months:
Heidelberg Speedmaster XL 106
Heidelberg Promatrix 106 CSB Blanker
Kama 76 Die Cutter / Foil Stamper
Kama FF Folder Gluer 52i
Heidelberg Diana Easy 115 folder gluer
BW Papersystem 1650 eCon Sheeter
Oliver has experienced years of sustained momentum and has made substantial investments in capital equipment to support this natural expansion in the marketplace. With a strategic focus on organic growth, capital expansions, and acquisitions, Oliver has a strong foundation for success.
"We've invested over $40 million in capital expenditures throughout our company's six locations," said Dan Rodenbush, President and CEO of Oliver. "And Cleveland's 6-Color Heidelberg is the 13th high-speed printing press across the organization. These investments represent our commitment to our employees and to our customers' growth potential. And we're only just beginning."
About Oliver
Oliver Inc. is the nation's leading independent supplier of custom paperboard packaging solutions, focusing on providing speed, flexibility, and reliability to the consumer brands in which they partner. Oliver goes beyond manufacturing and specializes in designing and producing highly customized, quick-turnaround, folding cartons, rigid boxes, specialty packaging, marketing collateral and more. Known for its white-glove approach to service, the company executes a turnkey platform from design to fulfillment, simplifying complex requirements with consistent on-time and on-budget products and services. Learn more at www.oliverinc.com
Media Contact:
Doug Doroh | Chief Revenue Officer |
ddoroh@oliverinc.com
| 330.425.7890