Oliver Completes Fourth Packaging Acquisition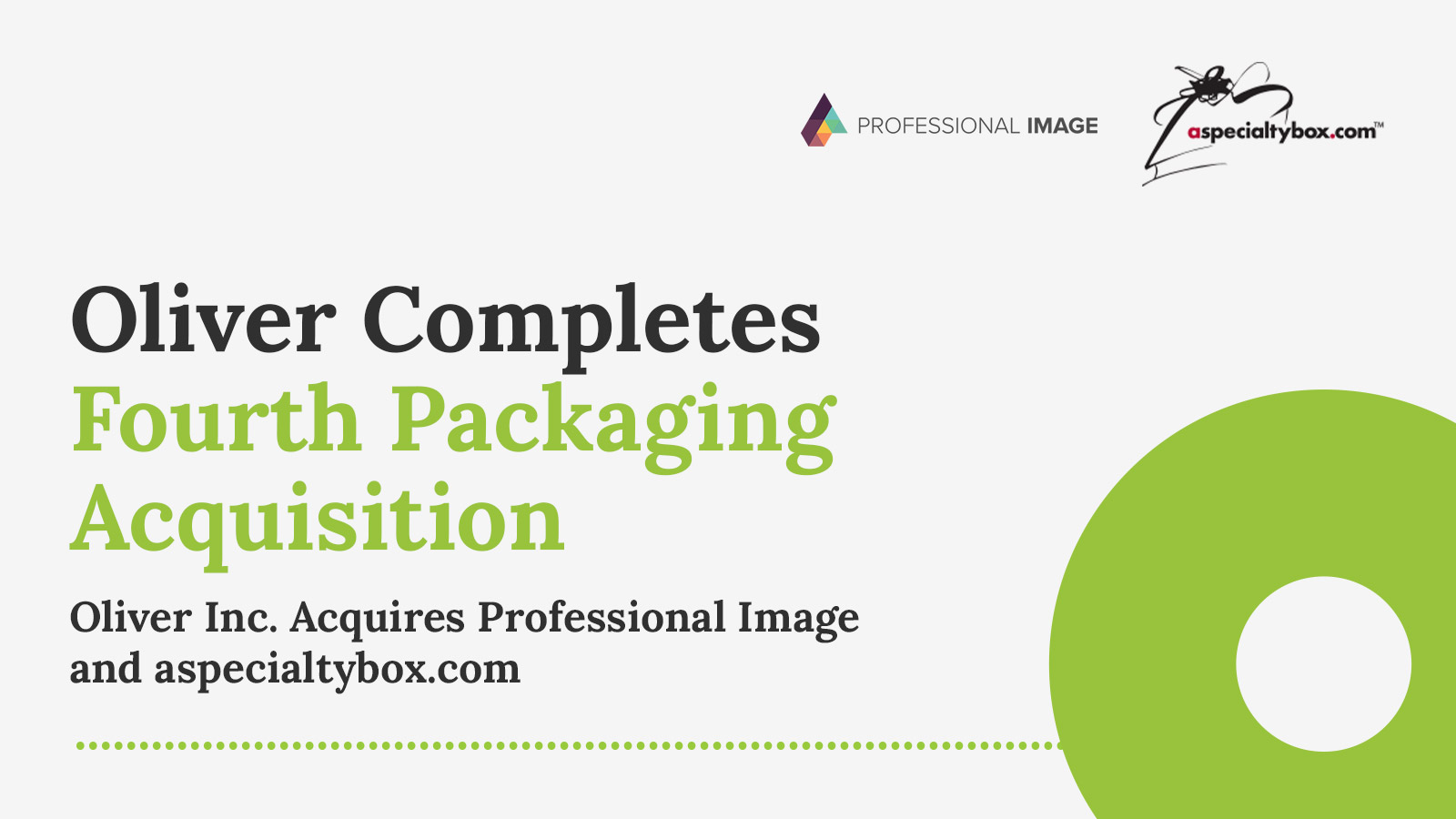 January 5, 2022
Hauppauge, New York - Oliver Inc. ("Oliver") announces it has acquired Professional Image and aspecialtybox.com (collectively, "Professional Image"). Professional Image is a leading manufacturer of custom folding carton packaging and e-commerce provider of innovative stock packaging and accessories serving customers in food and beverage, beauty products, confection, health and wellness, and consumer goods markets. Based in Tulsa, Oklahoma, Professional Image will continue delivering design-forward packaging solutions from its current location.
"The addition of Professional Image accelerates Oliver's position as one of the nation's largest independent specialty packaging providers," said Dan Rodenbush, President/CEO of Oliver. "We are proud to welcome the Professional Image and aspecialtybox.com team to the Oliver family. Together, we will better serve our customers with additional geographic reach, capacity, and high-end, design-forward product offerings."
"Oliver and Professional Image share core values, and both companies have a passion for providing creative solutions to our customers," added Cynthia Calvert-Copeland, CEO of Professional Image. "Partnering with Oliver increases our capabilities, provides redundancy, and allows us to better leverage our scale to offer enhanced solutions for our customers."
Oliver has made significant investment in modern equipment, facilities, and people since Pfingsten Partners became majority shareholder in 2016. The Professional Image and aspecialtybox.com transaction represent Oliver's fourth strategic acquisition and aligns with the company's vision to build a leading provider of innovative, specialty packaging solutions.
The transaction closed on December 23, 2021. To learn more about Oliver, please visit www.oliverinc.com
About Oliver
Oliver Inc. is a leading provider of highly customized, quick-turnaround, specialty packaging and marketing collateral solutions. Known for its white-glove approach to customer service, the company provides a turnkey platform from design to fulfillment, simplifying complex requirements with consistent on-time, on-budget, ultra-high-quality products and services.
About Professional Image and aspecialtybox.com
Since 1984, Professional Image has created packaging solutions for the food and beverage, beauty products, confection, health and wellness and consumer goods markets. Known for its artistic approach to packaging design, quality craftsmanship and first-rate customer service, Professional Image is proud to service clients ranging from startups to nationally known brands. Aspecialtybox.com is a direct e-commerce platform dedicated to supplying innovative stock packaging to the confectionery, gifts, and gourmet food markets.