Insights: Articles & Resources by Oliver Inc.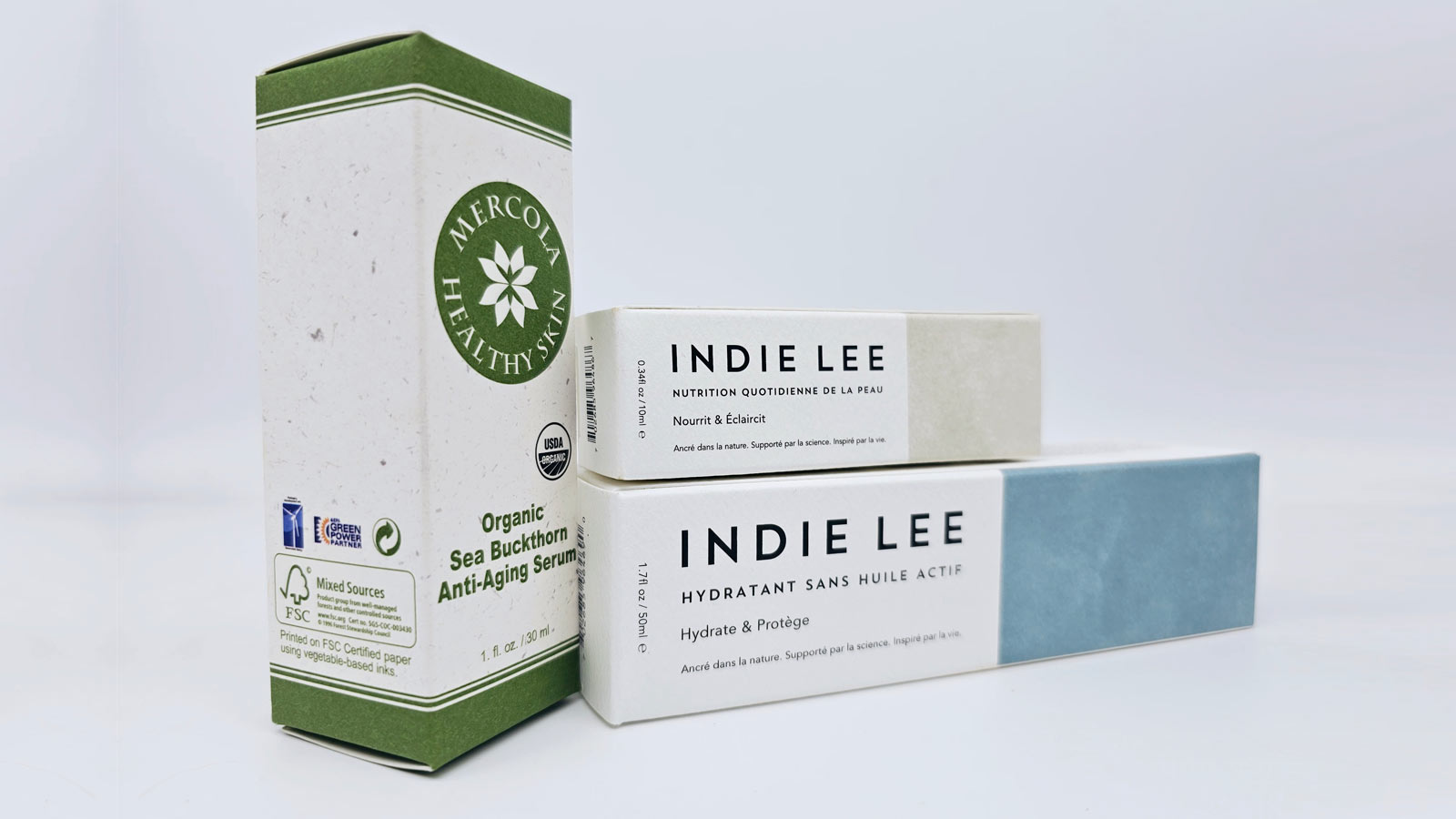 What Is FSC-Certified Packaging?
A growing number of consumers prioritize sustainability in their purchasing decisions. And this includes packaging, as well.
In fact, 43% of American consumers consider the environmental impact of product packaging extremely or very important, and 60% to 70% are ready to pay extra for sustainable packaging, according to a report from global consulting firm McKinsey.
Consumers look for easy-to-identify labels printed on packaging that clearly communicate whether your packaging materials are sustainable and sourced from responsibly managed forests, or not.
The Forest Stewardship Council (FSC) is one of the major entities awarding certification to printing and packaging companies who comply with rigorous international standards for sustainable packaging.
So, what exactly does FSC-certified packaging mean and why is it important to folding carton design?
Why FSC-Certified Packaging Is Important
Healthy forests are central to life thriving on this planet.
So much so that the vast tropical jungles of the Amazon have sometimes been referred to as "the lungs of the Earth," though it's probably better understood as "a sink." Furthermore, forests are home to more than two-thirds of land-based plants and animals.
Forests provide vital resources for human life, as well, supplying us with food, medicines, and other organic materials—specifically, timber and paper products. Forests are also foundational in counteracting climate change that results from carbon emissions and other greenhouse gasses because trees are incredible stores of carbon. The more trees (and the older they are), the more carbon dioxide becomes absorbed into their fibers rather than released into the atmosphere.
However, excessive deforestation and poor management of forests are threatening not only endangered species, but our ability to flourish as human societies—something that's especially true for Indigenous communities and workers directly affected by exploitative businesses.
Many forests are managed irresponsibly, either under attack from illegal logging or other injurious industrial practices.
To foster a more sustainable future, FSC has developed a collection of international standards and forestry practices aimed to maintain forest health around the globe. As more business sectors—including the printing and packaging industry—adopt FSC guidelines, the better chance we have to offset climate change, protect forests, and ensure a promising tomorrow for generations to come.
So what goes into FSC-certified packaging?
FSC-Certified Packaging Explained
A world leader in sustainable forestry practices, FSC's rigorous standards are focused on making foresters—and the printing and packaging industry by extension—responsible stewards of the natural world.
3 Major FSC Guidelines
As such, all stakeholders, including forest managers, accreditors, businesses, manufacturers, and shipping industries, to name a few, are unified under three guidelines:
Environmental appropriateness
Social benefit
Economic viability
10 FSC Principles
Extending from those guidelines, all aspects of the supply chain and management of forests must abide by 10 principles in order to produce FSC-certified paper and wood products. These fundamentals account for all aspects of forest ecosystems, including their cultural, political, and legal impacts.
FSC-certified forests must:
Comply with relevant laws
Boost workers' economic and social well-being
Uphold the rights of Indigenous Peoples
Enhance the economic and social well-being of local communities
Oversee their products and services in a way that amplifies their long-term economic viability and social and environmental benefits
Conserve and/or restore ecosystems and their environmental value, avoiding, repairing, and mitigating any negative environmental impacts
Create a management plan outlining their economic, environmental, and social policies and objectives
Manifest progress toward meeting those objectives
Improve high conservation values
Ensure all management activities align with FSC principles and criteria
Process to Become FSC Certified
Printing and packaging firms typically become FSC certified through third-party entities who are, basically, deputized by FSC. These are on-the-ground actors that ensure sustainability standards are maintained by whomever is seeking FSC certification.
These primary agents consist of:
The Forest Stewardship Council (FSC) - nonprofit that develops sustainability standards.
Assurance Services International (ASI) - global assurance provider who oversees the certification agencies responsible for correctly implementing FSC standards
Certification Body - independent organizations accredited to issue FSC certifications to printing and packaging manufacturers.
Certificate Holders - manufacturers that earn certification for abiding by FSC standards.
ISEAL - international association focused on social responsibility and environmental sustainability systems.
The process follows several steps.
ISEAL evaluates ASI and FSC to verify whether they meet ISEAL's standards. FSC then develops and continually reformulates its standards to align with ISEAL's recommendations.
ASI makes certain that its certification bodies comply with FSC standards, as well, overseeing whether they are likewise being consistent with all relevant standards.
Then these certification bodies assess whether potential certificate holders conform with FSC standards. If they do, they are awarded FSC certification.
Forest certificate holders must manage their forests responsibly and chain of custody holders have to ensure that their products are sourced sustainably.
Finally, these FSC-certified paper items, such as paperboard, are utilized by printing and packaging companies to create products employed in industries ranging from food and beverage and health and beauty to cannabis, pharmaceuticals, and consumer goods.
PEFC Packaging vs. FSC Packaging
There are several sustainable packaging certifications apart from FSC, such as the Programme for the Endorsement of Forest Certification (PEFC).
While both systems promote sustainable forest management and assure that wood and paper products come from responsibly managed timber, there are several key differences between them in terms of their origins, approaches, and requirements.
FSC was founded in 1994 as a global certification system and now covers more than 195 million hectares of forest in over 80 countries. It is widely recognized and respected worldwide. FSC certification has two standards: one for forest management and one for chain of custody (CoC), which tracks the materials from certified forests to the final product.
Founded in 1999, PEFC is a mutual recognition scheme that endorses national sustainable forest management standards. It covers more than 264 million hectares of forest in over 30 countries and is based on compliance with the criteria and indicators defined at the Ministerial Conferences for the Protection of Forests in Europe. PEFC certification also has a CoC standard that verifies the eco-sustainability of the product through the traceability of the production process.
They have a few clear differences, however.
While FSC certification ensures that raw materials come wholly or partially from controlled forest management, PEFC certification assesses eco-sustainability of the products through the traceability of the production process.
Furthermore, FSC also has stricter requirements for social and environmental aspects, such as Indigenous rights, biodiversity conservation, and pesticide use, to name a few. PEFC, on the other hand, follows a bottom-up approach, where forest owners and stakeholders develop and implement the certification process, allowing for more tailored or locally relevant certifications.
Nonetheless, both play valuable roles in the development of sustainable packaging. You might also look into the nonprofit Sustainable Forestry Initiative (SFI) as a sustainable packaging certification.
Working With an FSC-Certified Packaging Partner
Sustainable packaging firms usually feature FSC certification on the websites while ensuring that an FSC-certified label appears on their paper products, as well. This helps communicate to the expanding number of environmentally conscious consumers that you share their deep commitment to a sustainable future.
Oliver Inc. is one of those companies.
An industry leader with more than 250 combined years of experience in printing and packaging, Oliver knows what its paper is made of and where the wood is sourced. By actively investing in alternative energy sources and energy-efficient equipment, we further reduce ecological impacts on the communities in which we operate. Being a domestic sustainable packaging supplier helps us accomplish that.
It takes a lot of dedication to earn and stay up to date on sustainable packaging certifications, but it's important to us. Sustainability is in our nature.
From recycled substrates and renewable paperboard alternatives to vegetable oil-based inks and cellulose acetate window material for folding cartons that are 100 percent compostable and petroleum free, you'll find sustainable packaging design that resonates with consumers and elevates your brand.
We'll help you achieve your sustainable packaging goals so you can continue delighting customers with your fabulous products.
Oliver Inc. is the nation's leading independent supplier of custom paperboard packaging solutions. We continuously invest in training and technologies to ensure the highest degree of sustainability for our products. Contact us today to learn more about our FSC-certified paper products.
Topics