Insights: Articles & Resources by Oliver Inc.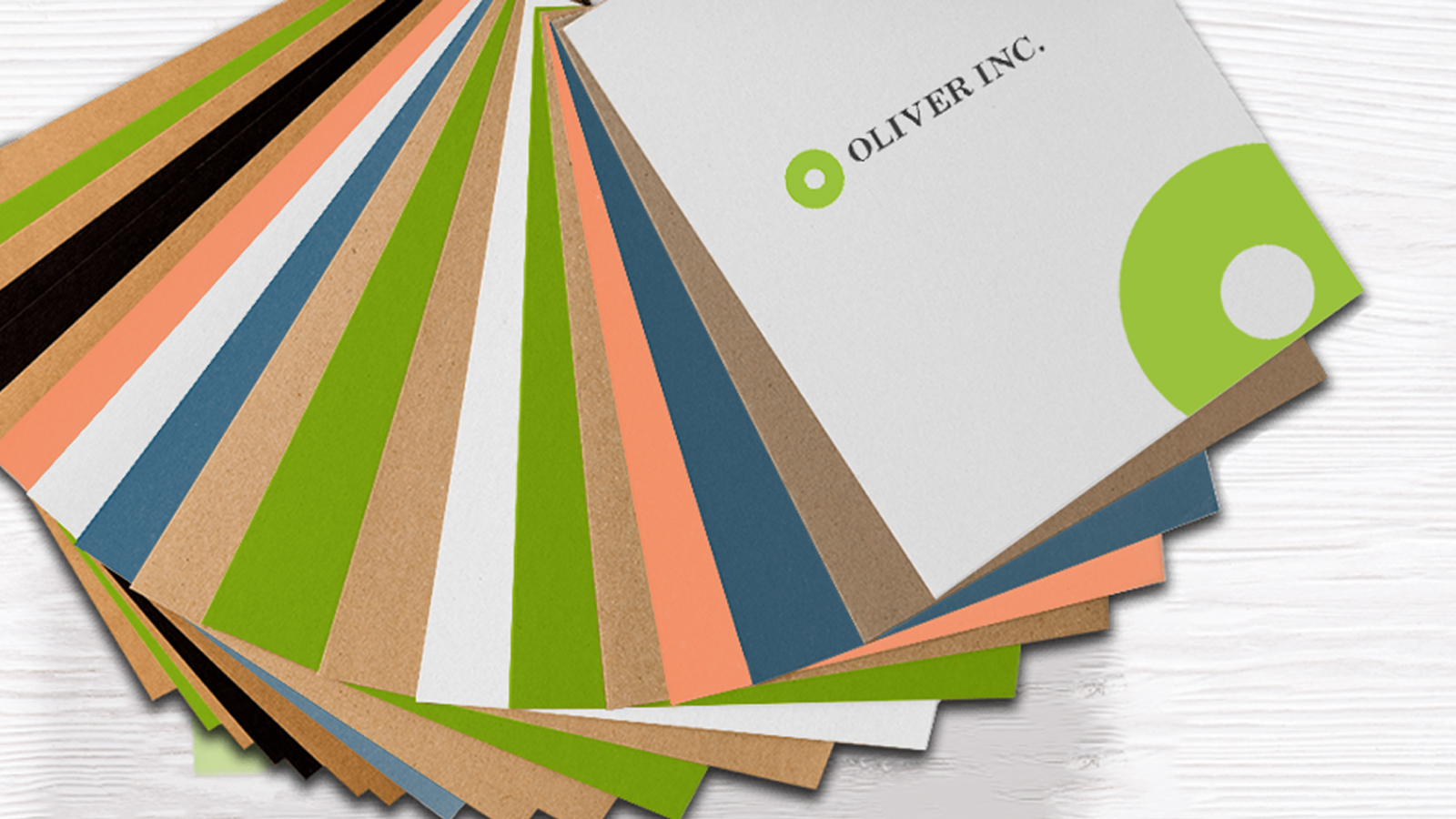 What Are Your Paperboard Options for Packaging?
You have an abundance of paperboard options at your disposal, but which ones are most appropriate for you will depend on your particular context, budget constraints, and packaging goals.
While it's vital to have a thorough conversation with a printing and packaging partner about optimal folding carton choices, here are some considerations to get you started.
What Is Paperboard?
Thicker than paper but typically thinner than cardboard, paperboard is a wood-derived material used in folding cartons and various industrial packaging applications. Paperboard thickness varies just as the exact contents do.
You'll find paperboard in low-grade and high-grade qualities, each with its own printing strengths and weaknesses.

Let's look at the most common paperboard selections available for folding cartons.
Various Paperboard Options Available
If you're looking for paper-based options, here are some specific selections worth considering.
Solid bleached sulfate (SBS) is made of virgin hardwood, and clay coated. Available in 12-28 point calipers, this substrate has moderate strength and a smooth, white surface uniform throughout the structure. This gives us a great printability with flexo, litho, and gravure. Use cases typically include high-image folding cartons for premium or high-end food, pharma, and cosmetic products.
Coated Natural Kraft (CNK) or solid unbleached sulfate (SUS) contains 79% virgin fiber and some recycled content filler. Its natural brown backside and white, smooth surface on the front make it good for printing offset, litho, and gravure. With the highest strength, available in 12-28 point calipers, solid unbleached sulfate is also ideal for heavy-duty folding cartons, hardware, beverage carriers, and detergents.
Coated recycled board (CRB) consists of 100% recycled fiber, bleached on top with a clay coating on the other side. With a gray backside appearance, this paperboard option has low to moderate strength and comes in 12-28 point calipers, with applications in multi-purpose folding cartons for cereals, crackers, dry processed food, and shoe boxes.
Folding boxboard comes in 14-28 point calipers. Low in strength, this paperboard option has a bleached top, groundwood center, low density, slightly yellowish color, and is coated on one side. It is ideal for cigarettes, health and beauty products, confectionaries, and pharma products. As far as printing quality, folding boxboard has low to high printability with offset, flexo, and gravure.
Heavyweight paperboard combines multiple plies to create a thick, strong, option. Expert printers can accommodate up to 40 point caliper board to provide eye-catching cartons that offer long-standing protection.
Sustainability in Folding Cartons
As more brands shift toward green initiatives, a trend expected to accelerate, it makes sense to prioritize sustainability in your paperboard options. In fact, according to a 2020 article from Environment+Energy Leader, 75% of consumers are willing to pay a premium for sustainable packaging materials in products they buy.
Put simply, sustainable packaging helps brands stand out among competitors.
Since manufacturers derive paperboard primarily from trees, it's incredibly renewable—with one major catch. The timber sourced for paperboard must be from sustainably managed forests. This means the chain of custody throughout the entire supply process must be geared toward reducing the carbon footprint while leaving a positive impact on the environment and communities where these forests stand.
For instance, the Forest Stewardship Council (FSC) certifies forests as responsibly managed if they demonstrate a commitment to "a developed set of 10 principles and 57 criteria" it outlines. Other entities similarly committed to sustainable forestry provide verifiable certifications as well, including the nonprofits Sustainable Forest Initiative (SFI) and Programme for the Endorsement of Forest Certification (PEFC), among others.
Should you choose not to go with a tree-based paperboard for folding cartons (or plastic containers, which can be sustainable when implemented properly), you have other options, as well. These include hemp and cotton fibers, among others.
Post-Consumer Recycled Paperboard
If you aspire for a more vibrant or visually dynamic folding carton design while promoting sustainability, you may want to consider post-consumer recycled paperboard.
Notably, most post-consumer recycled paperboard contains up to 30% recycled fiber, depending on the caliper or strength required for the substrate. This gives you the ability to employ eye-grabbing designs while demonstrating to consumers your commitment to sustainability.
Combine Paperboard With Cardboard
Paperboard is a mainstay in folding cartons, but some items need to use cardboard for its rigid structure. When you blend the decorative possibilities of using a paperboard topsheet and mounting it to the hardiness of corrugated materials, you get a combination that showcases the strengths of both substrates.
This combination of packaging materials consists of 2-3 millimeter chipboard enveloped in paper well suited for decorative effects.
This paperboard option works well for brands who want secondary or tertiary packaging that calls for a more visually appealing look. For instance, consider a larger master shipper containing smaller-sized cartons or pouches of snack foods. Given how consumers are likely to use the master shipper as a storage container in their kitchen while they eat the snacks over time, this provides a powerful user experience that not only protects food during storage, but continues on as a marketing product in somebody's pantry.
As you can see, you have many paperboard options, be they paper based or other sustainable alternatives. By reviewing each of the possibilities we've explored above, you'll be in good shape to have an informed discussion with your printing and packaging partner about your brand's goals and what will help elevate your products in the eyes of consumers.
Oliver is a premier printing and packaging company that combines more than 250 years of experience in helping brands achieve their sustainable packaging goals. Contact us today to learn more about which paperboard options are right for you.
Topics